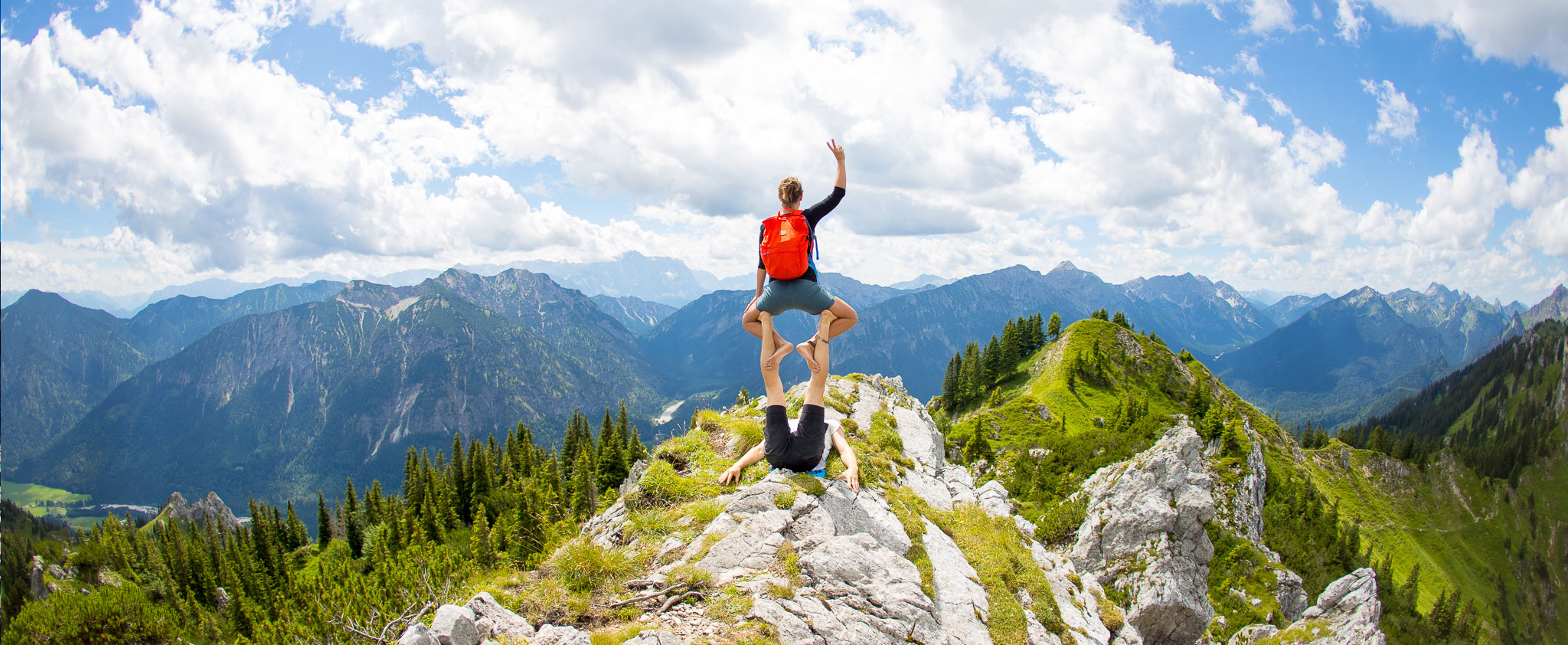 The Idea
The idea is a simple one, to mix all our favourite things and come up with the perfect summer deal: acro, the great outdoors, hiking, kayaking and exploring!
We love to travel and we love to train but when we travel we slow down our training progress or missing training partners and when we attend workshops we feel like we're not really travelling or connecting with our location. AcroVentures takes the workshop on the road. Explore beautiful nature together with a group of old and future acro-friends, connect with the core of a place while enjoying intermediate workshops mixed with alternating outdoor activities.
Since neither travellers nor acro people tend to have lots of money we try to make it as cheap as possible so that everyone who shares our vision is able to join us – this is why we love our tents!
Happiness Is Only Real When Shared
AcroVentures are built on a sense of community. For us it is all about the connections you make on a trip like this, where like-minded people come together to share their passion for acro, outdoor life, exploring and friendship and have the time or their lives.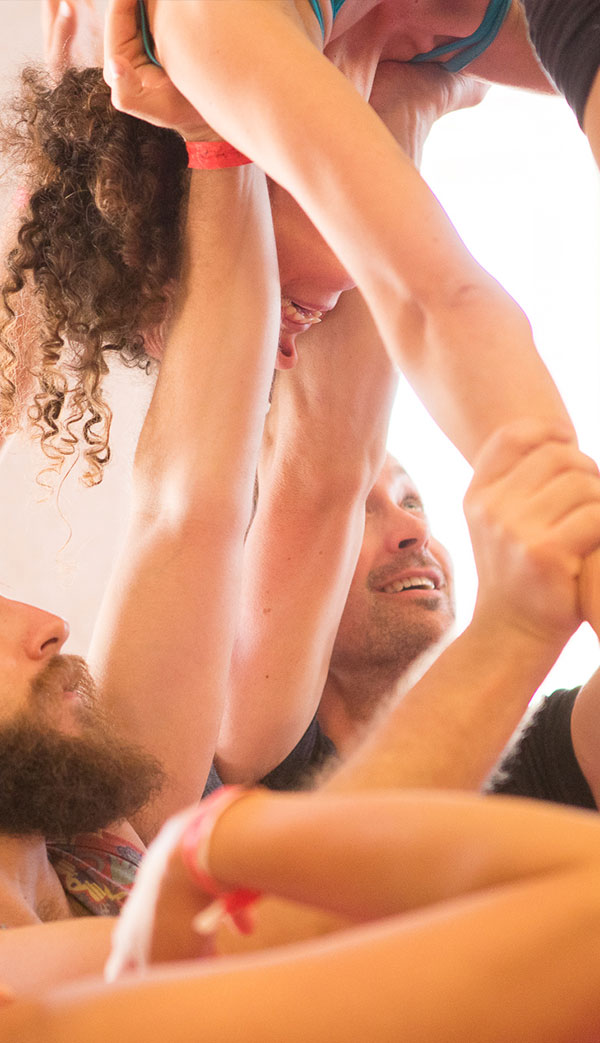 Travel
and
Train
Take your acro workshop on the road and really connect to a place while improving your acro-skills. The love for acro that we alls share will be a part of everything we do on the trip. Acro on the mountain top, bonfire jams - everything is possible because you travel with an acro-crowd!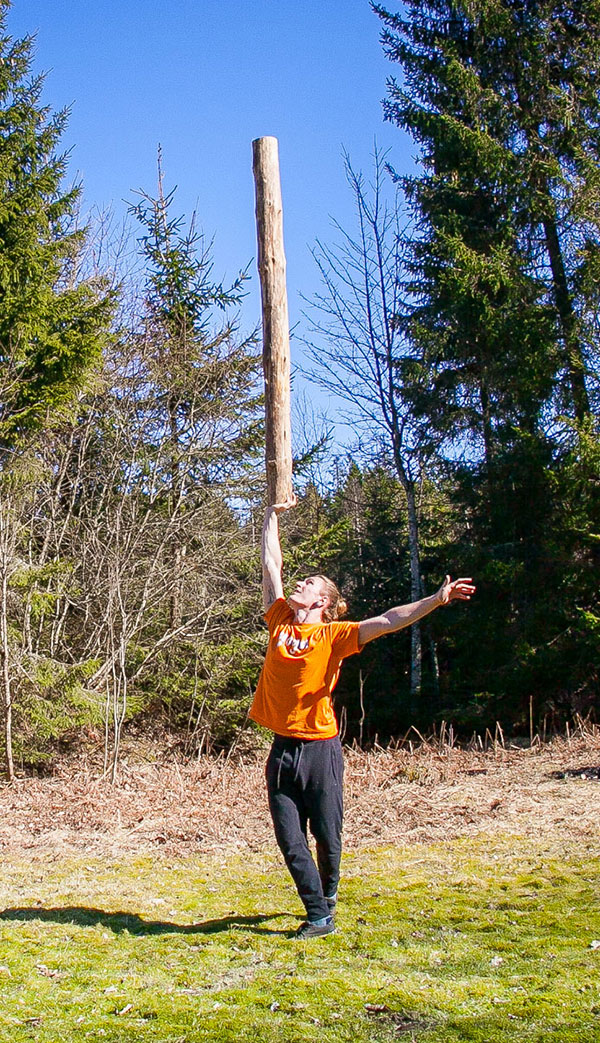 Creating Experience With Movement
AcroVentures have a progressive feel of movement through changing locations. Discover where you actually are: unlike conventions and retreats, exploring the area is a big part of the trip. Through these shared experiences we create deep connections to each other and to our host country.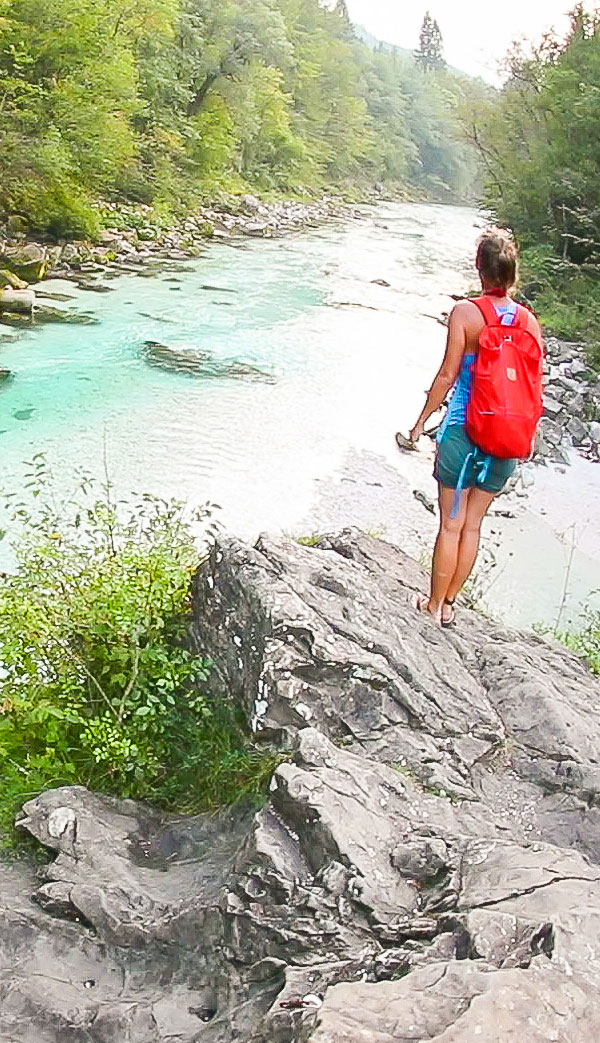 Keeping
Costs
Low
We keep costs low because we want everyone to be able to join us. Being a sharing community allows us to keep the spirit of adventure while still enjoying some luxuries. AcroVentures are camping trips but we have a professional chef with us and share helper tasks. This way everybody contributes to make this trip possible.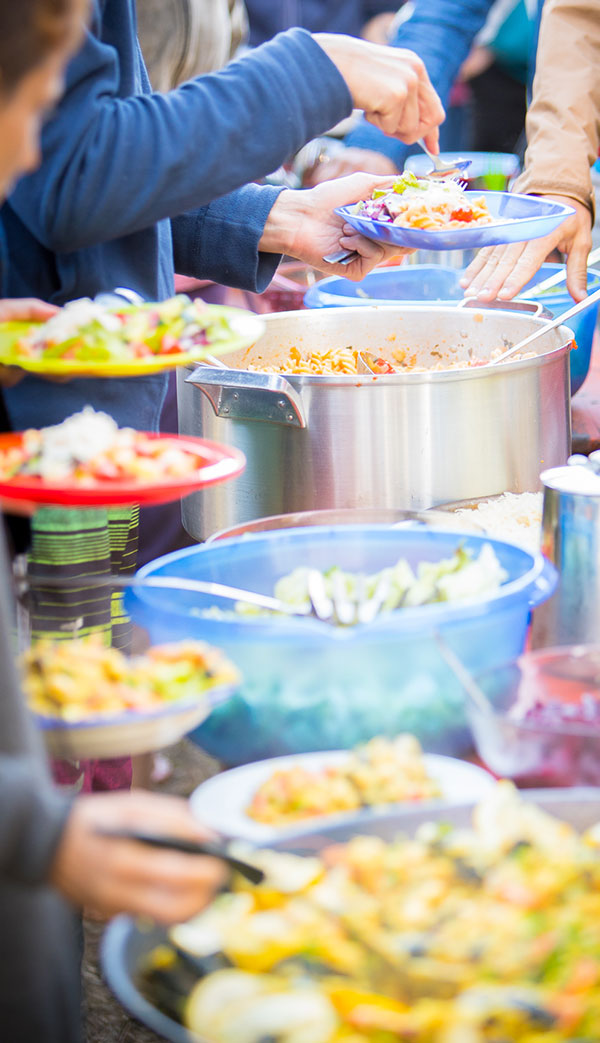 AcroVentures is a group of old and future friends who want an adventure, as well as progressing with their acro-skills. We set the stage for a group's spontaneity while covering all the logistic bases. Traditional group travel isn't really our thing and neither is the classic yoga retreat. We want to feel the freedom of life that comes with travelling. We don't just bring you somewhere to do acro, moving through our host country and interacting with the local culture and exploring the nature around us are essential parts of any AcroVenture.
Travelling with us will be experienced acro teachers and to top it off a professional photographer. The AcroVentures glamour features are a cook who travels with us and a big tent that we can train and hang out in on rainy days. Your contribution to the AcroVenture is your own camping equipment, a foundation of acro skills to build on, and enthusiasm to share your personality and talents with the community.
We set the stage, organise the camp, maintain
training and acro inspiration – then
the adventure is yours!
The Team
Our Story
Jared and Lilli met in 2014 on a beach in India doing acro. One year later, again on that magical beach, they talked about how travelling and doing acro can be really hard if you are a solo traveller and how awesome it would be to be able to travel together with an acro crowd. Lilli had the idea to create trips that would allow people to travel the world acro-style connecting different acro events and communities. Jared loved it and again and again they talked about this amazing "Endless European Acro-Summer", travelling and training at the same time. A couple of months later Jared called and said: "Let's do it!"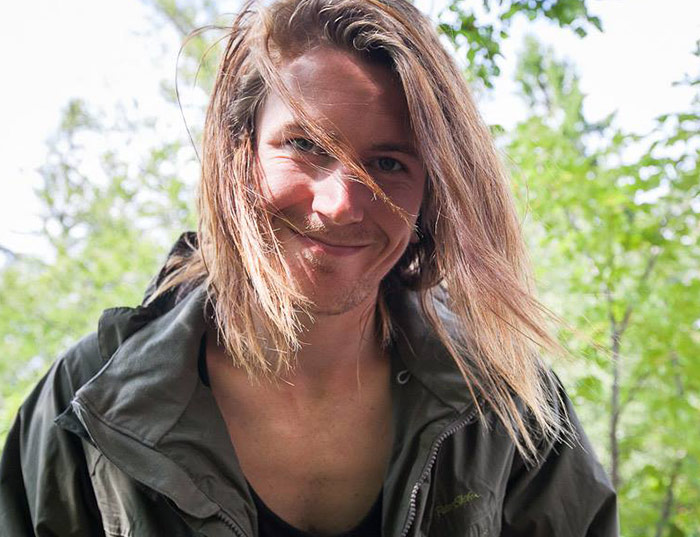 Jared van Earle
Co-founder, photographer and videographer
Jared is our Jack-of-all-trades: from sparking the idea over planning routes, up to building our website, his talents show in every aspect of our trips. Many of them he acquired in the last 4 years, during which he left his job in graphic design, to see a little of the world. As a master of combining work and pleasure, he is the official photographer at several acro conventions and also teaches Thai Massage and acro.
On out trips you will find him behind his camera, restocking the fridge with chocolate or doing acro. As the co-founder of AcroVentures, his kind and reassuring nature is the magic ingredient that allows Lilli to hold the vision and trust the process.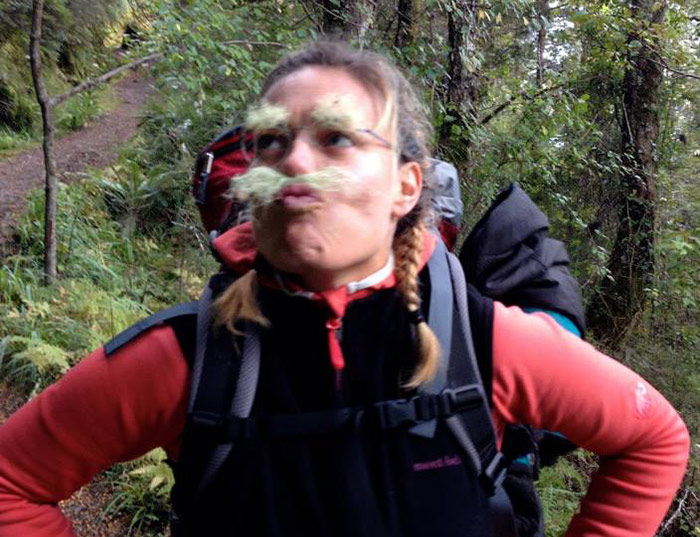 Lilli Hantke
Co-founder and organisational mastermind
Lilli is the spark that lit the AcroVentures flame - a warm hearted, outspoken and fun loving traveller with a passion for bringing people together. When Lilli left her job as a careers counsellor for international students she just wanted a break, lots of sun and time for acro. Two years later, she is working on a more balanced lifestyle that combines everything she loves: outdoor living, travelling, creating magic through connecting people, bonfires – and of course acro. A boyscout at heart, she is happiest in the mountains or in the water with the sun on her face. During our trips Lilli is our organisational mastermind as well as esteemed ambassador for the Ministry of Silly Walks.
Our Teachers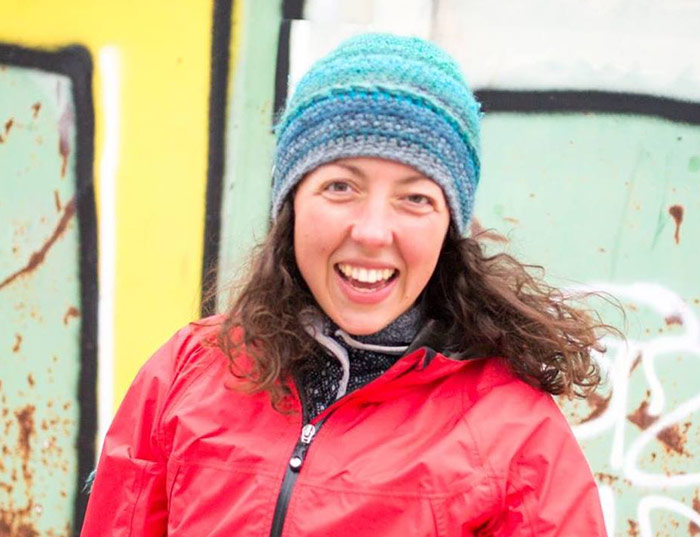 Eva Brovinsky
Our local expert for Slovenia
Eva is our partner for AcroVentures Slovenia. She is a seeker of all sports and activities that take her into the great outdoors. Her mantra is less gear, more freedom of movement. As a certified Vinyasa Yoga and acro teacher (Acro Montreal) she is forever patient and compassionate and emphasizes cooperation with effective technique to build confidence and a solid foundation for your personal practices.
On our Slovenia AcroVentures she will be guiding our hikes and offering her input on improving overall body awareness and movement. As a Yogaslackers teacher she will for sure bring along her slackline and teach you some tricks. She can even do Thai Massage in case you are sore from all the fun.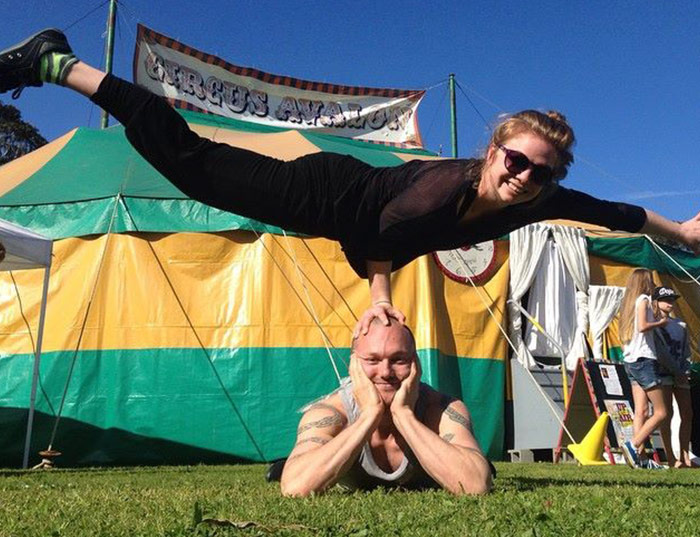 Caitlin Cook
Leading the main workshop block on the Slovenia June Trip
Caitlin has been doing gymnastics from around the time she started walking. Her parents wanted her out of the stroller, so she got up into a handstand. After living the competitive gymnastics training schedule throughout most of her childhood and teendom, she went on to pursue more dance and circus acrobatics in San Diego, then San Francisco, Edinburgh and now Sydney. Her love for performance and acrobatics has led her on a wonderful path of flipping, flying, and handstanding all over her amazing base, Dane.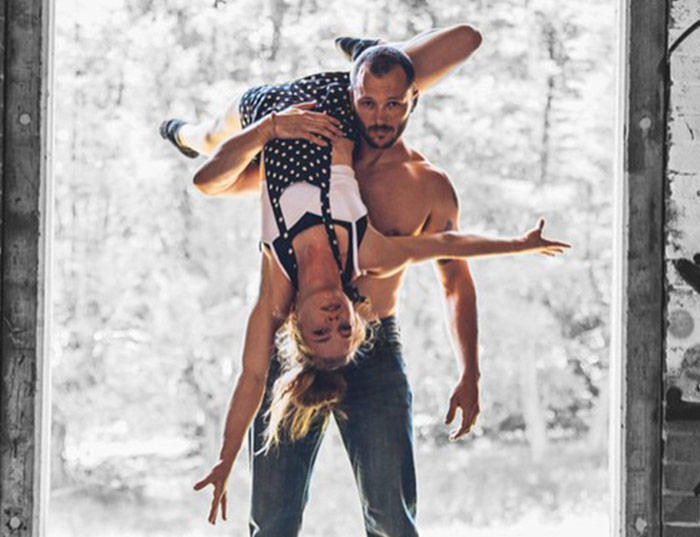 Dane Heimann
Leading the main workshop block on the Slovenia June Trip
Dane was raised playing sports. He started lifting weights at a young age to get stronger and quickly became a gym rat. He found rugby, which has become a major passion in his life and played as a flanker. He has always enjoyed the support roles in team sports, never wanting the spotlight. He prefers that his team mates know that he is working hard and doing his job above all else. This has been a perfect mindset for being a base. Dane enjoys being a strong platform and thinks that a job well done is when he isn't noticed. Letting Caitlin soar and making sure to always be there to catch her is the most satisfying part of the job.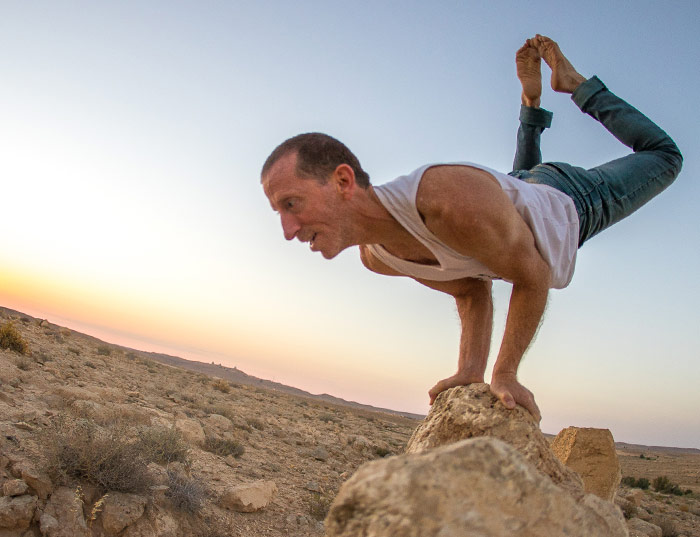 Yanai Levor
Leading the main workshop block on the Slovenia August Trip
Yanai is a longtime student of Iyengar yoga and has been practicing circus skills for over 15 years. He has performed with his family on various stages in Israel and abroad and has taught countless acrobalance and handstand workshops in places such as New Zealand, Spain, France, Scotland, USA, Canada & Russia. He currently teaches acro at the Israel Circus School at Kfar Yehoshua, including a parents & kids acro class. Yanai specializes in handstand techniques and loves all things inverted. He switches between being "base" and "flyer" and thrills to be the middle in a trio. Yanai's goal in teaching acro is to help each person be the best version of themselves that they can be.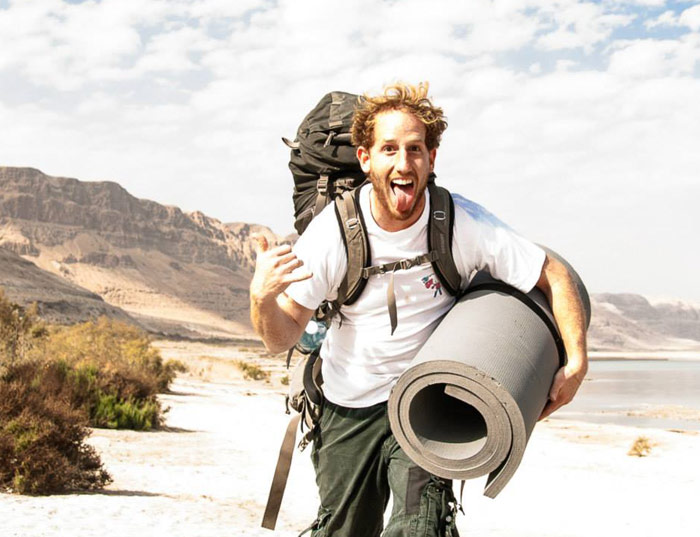 Noi Levor
Leading the main workshop block on the Slovenia August Trip
Noi started to perform as a circus artist very early. At 15 he performed with his family in a circus and acro show while travelling around the world. In the last 6 years Noi has been learning, performing and teaching at different events and recently graduated from circus school. What he loves the most in acro is seeing people do silly stuff and laugh out of joy when trying to nail a new skill together.
His dream is to explore the world while sharing his passion and skills for acro. He also has a strange and strong love for fixing and making things with duck tape and hopes to employ this "outdoor skill" on this trip.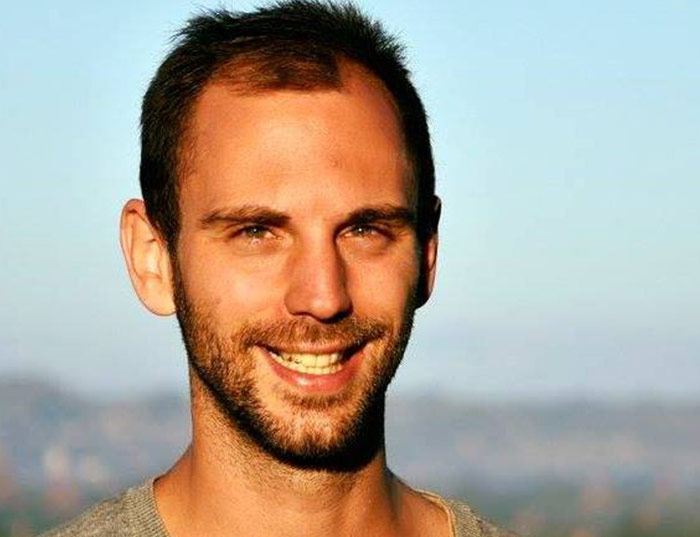 Simon Bigelmayr
June progressive handstand workshop and daily warm-up
Simon is a sports nut, forever thrilled by the diversity and fun of all kinds of movement. Striving to understand movement, alignment and the learning process he is a certified gymnastics teacher. His personality and experience in teaching senior beginners allows him to adapt his instructions to each individual. His own training focuses on acrobatics – especially handstand, hand-2-hand practice and Icarian Games/Pops & Whips. If he is not working on his free database for acrobatic poses and transitions (Acrodicted.com), you will find him teaching workshops or just anywhere on the ground with someone wearing a happy smile on his feet.
Jessica Szekely
Chef for Slovenia June Trip
Jess is a keen (and highly excitable) acro-lover and explorer. She's cycled, climbed and surfed throughout most of the continents, and generally loves to live outside.
More importantly, she is thoroughly determined that everyone should always be well fed. She's catered on almost every expedition she's been on, has set up her own expedition food company (https://tentmeals.co.uk/), and has cooked at two of the British Acro conventions. Don't worry, she knows acrobats eat armies worth of food and what makes them happy! Her degree in Natural Sciences (Physics, Maths, Chemistry and Material sciences) explains why she is so good at calculating the caloric intake and nutrition we need on a trip like this.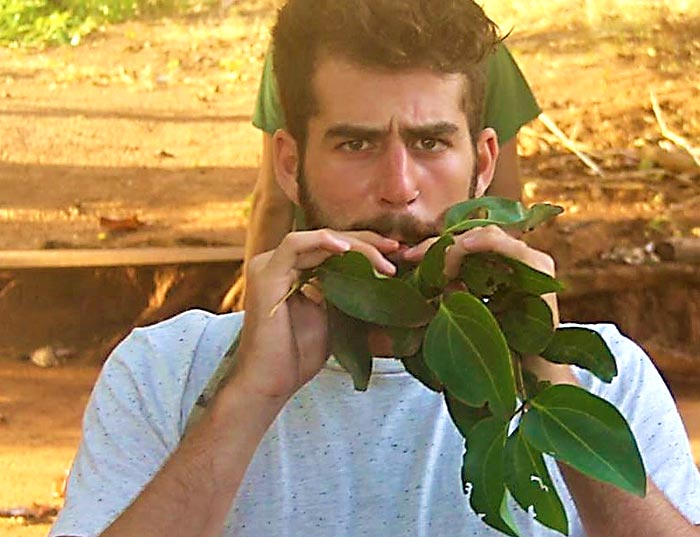 Christophe Dubois
Chef for Slovenia August Trip
Having studied Restaurant Management in Canada and worked as a professional chef, Chris is now back at university becoming a social worker. At the same time he is teaching immigrants and people with social difficulties how to cook in a community centre in Montreal.
Because he loves acro, travelling and feeding people he is joining us in Slovenia in August. His food, he says, reflects his emotions and personality. He goes freestyle most of the time while diving into different cultures for inspiration and always looking for fresh, local produce. Good food, to him, lets people come together and share a good time and he firmly believes that through sharing food we share our love for each other.
Get in Touch, Get Involved
Got a question? We'll give you a straight answer.
The AcroVentures idea comes from the acro-community and we want to grow from within the community so if you feel inspired to get involved in AcroVentures, we want to hear from you!
Drop us a line below if you have a trip idea, want to recommend teachers or local guides, tell us about an amazing destination, or anything else that you think might be worth sharing with us.
Or tell us where you would like to go! We are always open for great ideas and places to explore!