7 days acro and hiking in the Slovenian Alps. Followed by 3 optional Kayak days. Join both parts or just the first acro week. Travel & Train together with an acro-crowd and 4 different teachers.
Slovenia is a country of stunning natural beauty and diversity, boasting gorgeous mountains, rivers and forests. We will take 7 days in the Julian Alps to hike 11kms following the iconic Soča River from its source in the mountains to the town of Bovec. Along the way we will have 6 main workshop units, plenty of free training, jam time and daily handstand practice. We plan 2 detouring hikes – an iconic workshop on top of our favourite mountain plus a two-day hike with an overnight stay in a mountain hut. These are our favourite hikes in Slovenia to combine with acro. After that we will leave the mountains on the Soča River with the kayaks, while enjoying another 3 workshop units and solidifying the previous weeks acro skills. Expect outdoor life galore, bonfire magic, acro every day, slacklining and other outdoor action, sunshine days and starlit nights and lots of fun. The rest is up to you!
Book Now
The Full Description
You'll get a feeling for this breath-taking country as we acroventure to the highlights and some hidden treasures of the Slovenian Alps.
Each day starts with a warm-up and progressive handstand training, followed by a hearty breakfast. Each day also features an acro-workshop in a changing outdoor location and free time to relax, jam or work on your own acro practice in free training slots guided by our acro teachers, of which we will have 4 on this trip: Dane & Caitlin of Duo Die will be leading the main progressive workshop block, Simon is doing the daily warm-up and handstands and Eva will share her slackline skills. All of them will be present during free training for advice.
From Ljubljana we will head into the mountains together and move along the iconic Soča River on foot and with mini rafts. Our trip starts with a hike to it's source and we will then follow it's emerald waters down to the town of Bovec over the course of 7 days. Each leg of the trip leads us to one of our three favourite campgrounds in the breathtaking Soča Valley.

Hikes
In addition to the 11km we walk along the Soča River from camp to camp, we will do two detouring summit hikes – one with an acro workshop on top of our favourite mountain. The second is a beautiful two-day hike with an overnight stay in a mountain hut.
The morning of the second day will start with a mountain mediation gazing down into the valley, before we go off to find the capricorns on our second summit. Here we stop for some rest and possible photos in front of Triglav mountain – Slovenia's most iconic and tallest, before heading back down for a little more chilled out acro time and a swim in the river.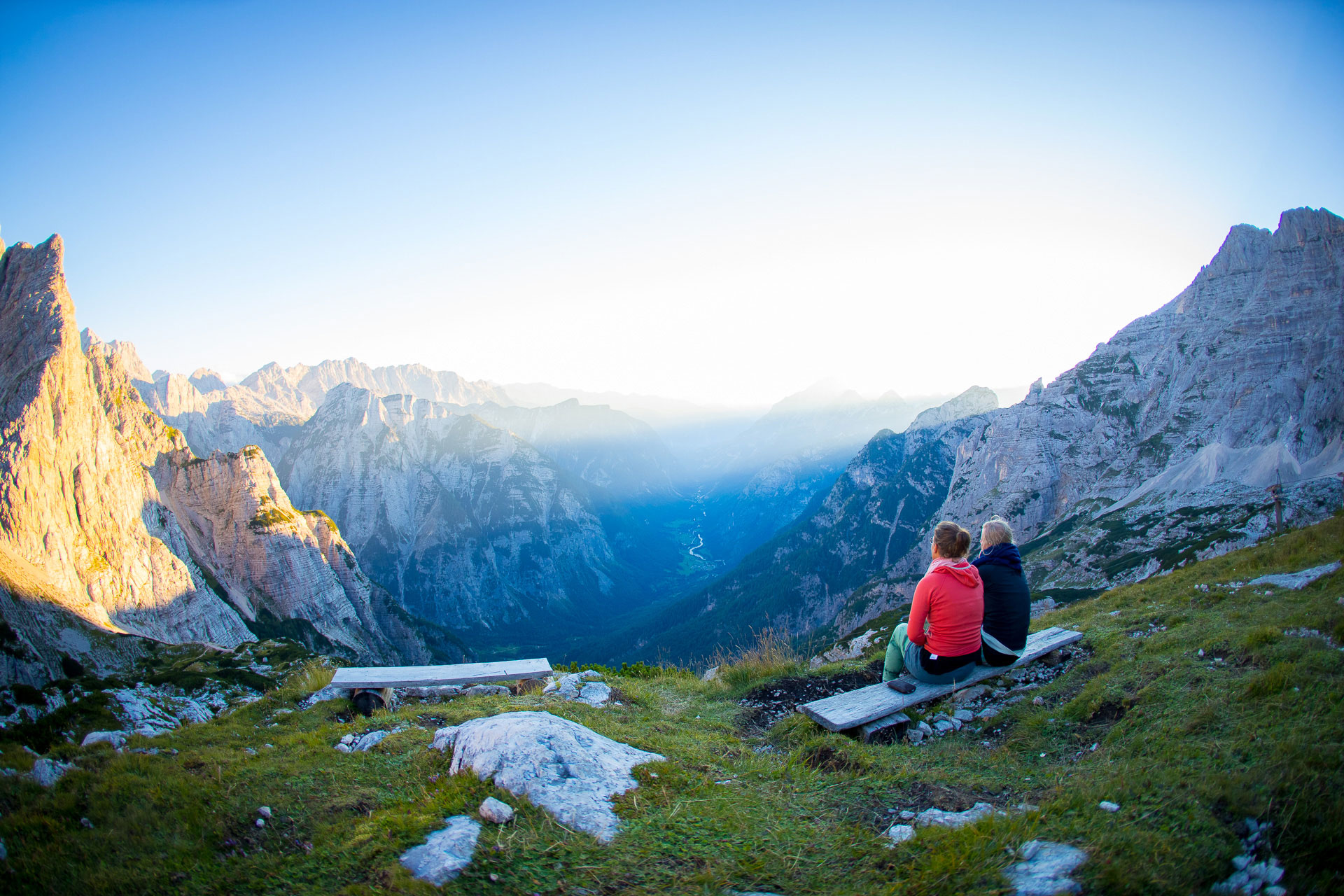 For those who are happy on the water, we offer 3 optional Kayak days after the first week in the mountains. Of course there will be acro workshops during these 3 days as well. During these 3 days we will continue to follow the emerald waters of the Soča River leaving the Julian Alps before we close the circle and head back to Ljubljana.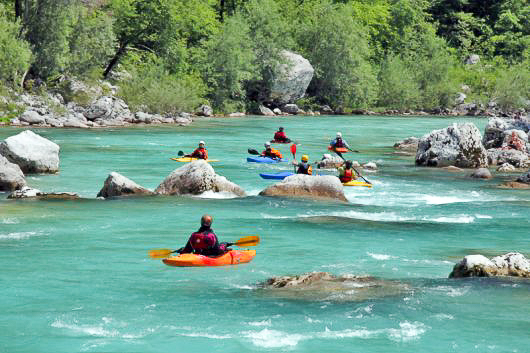 Main Workshop Units
Over the course of our trip Dane & Caitlin will be teaching a workshop block consisting of 8×3-hour units. Dane & Caitlin's aim is to share their love for acro through inspiring new ideas of what can be created, played with, and attempted. Their workshops are designed to re-enforce a solid foundation for dynamic movements and standing acro, while creating space for students to work safely with each other to build lasting skills. Emphasis is placed on their 5 principals of acrobatics, helping you fine tune and unlock new dimensions of awareness in your acro practice.
Workshops cater to skill level, energy levels on the day, as well as what type of ground we happen to be on.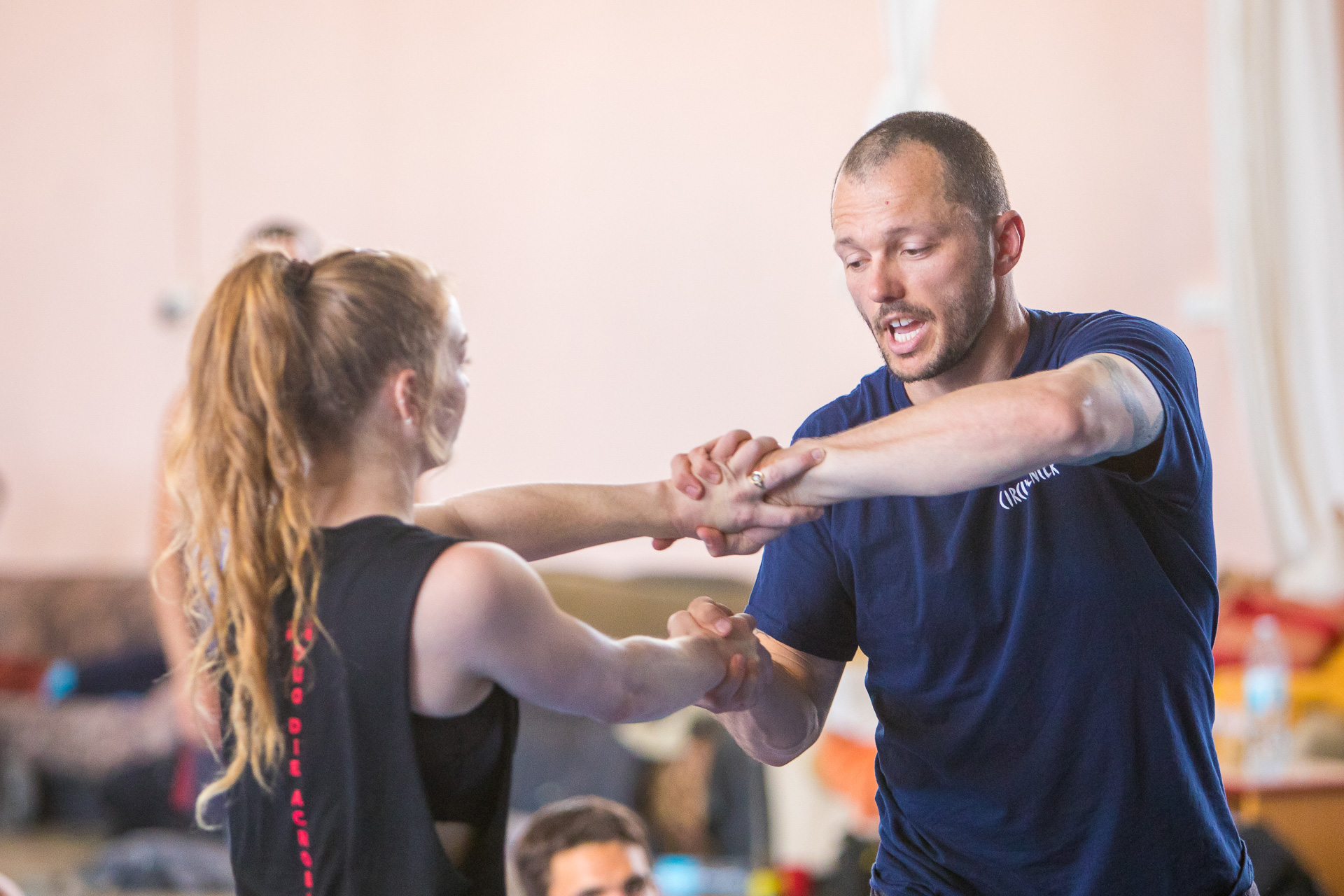 Foundations of Dynamic Acro: Explore the 5 principles of acrobatics: Communication, Body Control, Physical Tension, Tempo/Timing, And Safety. Using these fundamental principles, learn to train in a responsible and efficient way, no matter what skills you are working. Get comfortable pulling drills out of skills, building technique and strength that will benefit all of your training.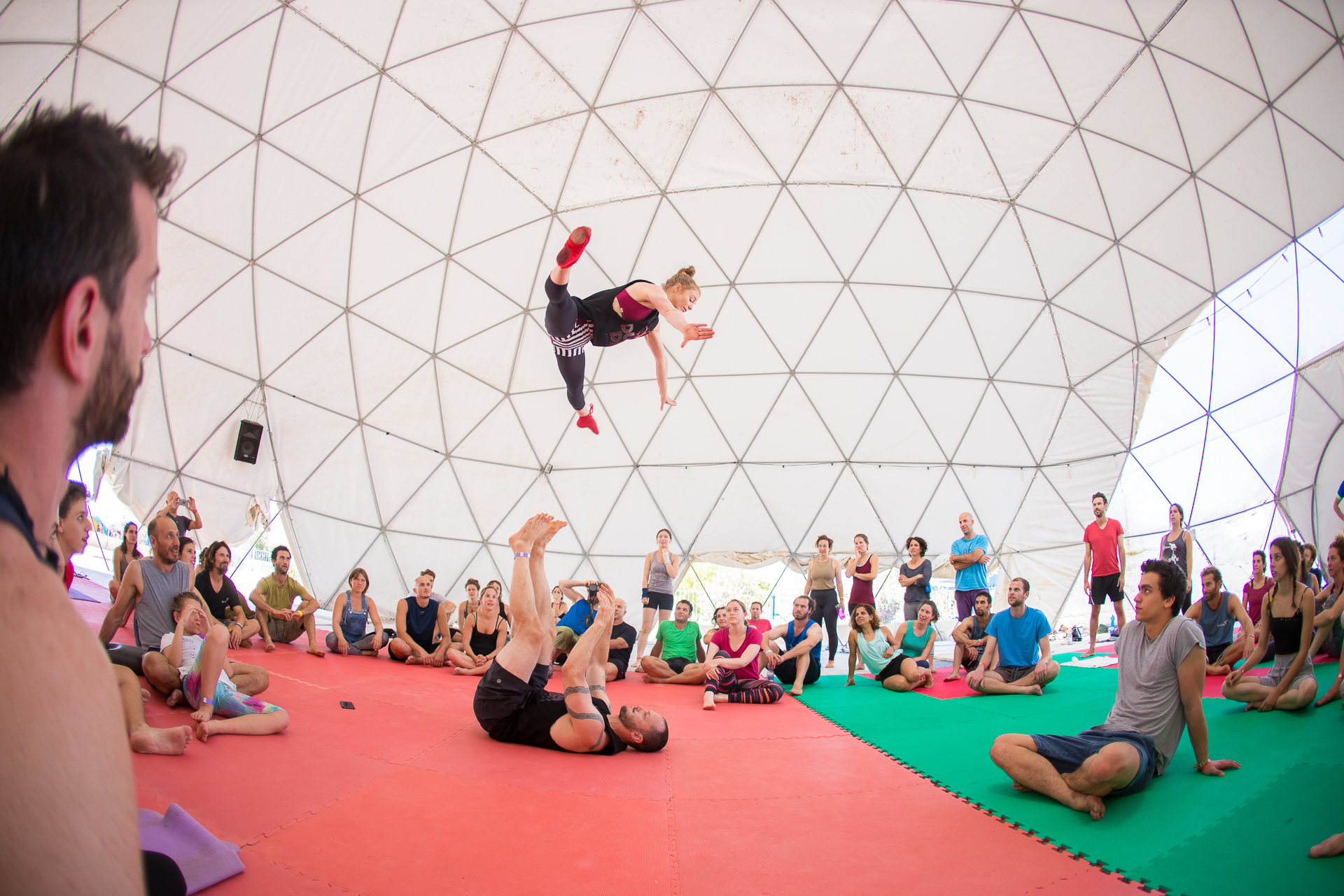 Fundamentals of Dynamic Icarian: We will focus especially on tempo and timing of this exciting part of acro. Bases will work on softening catches and spacial awareness, while flyers will practice isolating movement in the air, and finding comfort when things aren't perfect! We will work on understanding the value of throwing a solid flyer straight and consistent!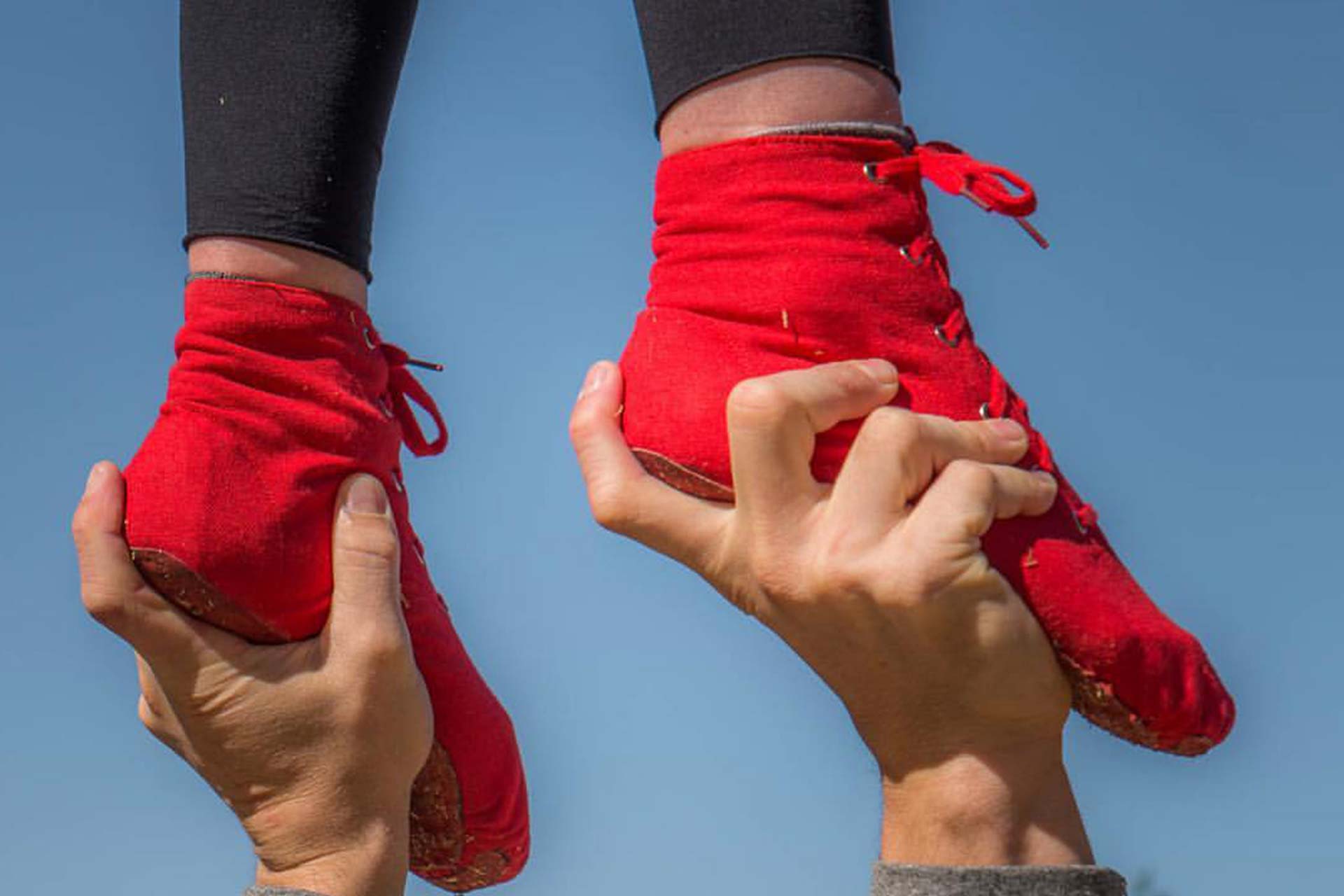 F2H Essentials: Focusing on partner connection and communication, we learn, polish and progress your understanding of standing in hands. Through various shaping, balance and response drills, find the stability that you need to work dynamically in f2h. This session will address grip, entrances, exits, base/flyer positions, isolations, conditioning and endurance in both supine and standing f2h.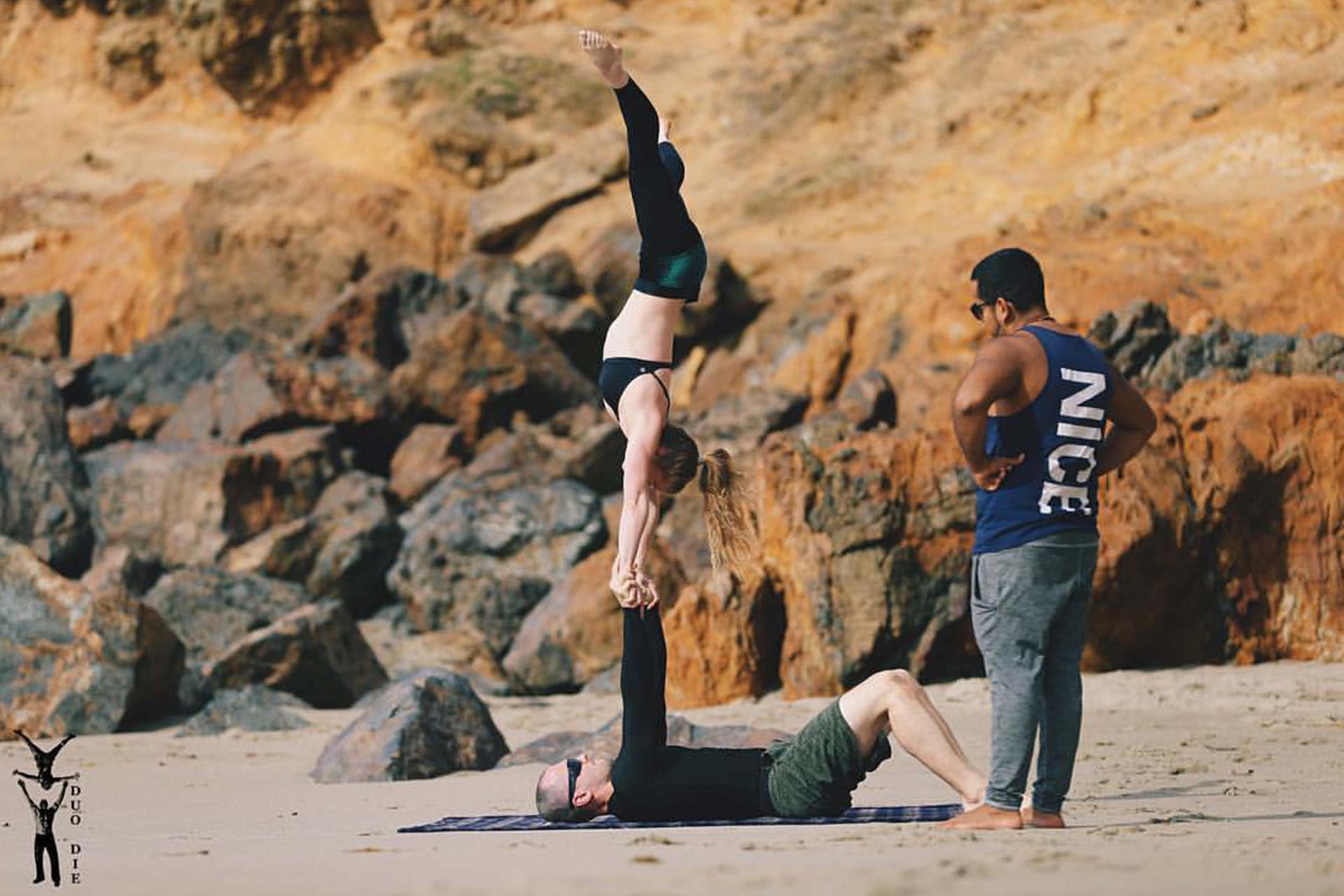 H2H Essentials: This session will look at the information transfer between the hands, the connection and strength of staying underneath the flyer. We will work different static positions, along with entries and exits in supine, sitting, kneeling and standing. A good hand to hand is founded in a strong, straight handstand on top of a platform that is able to subtly control the line with little energy expended.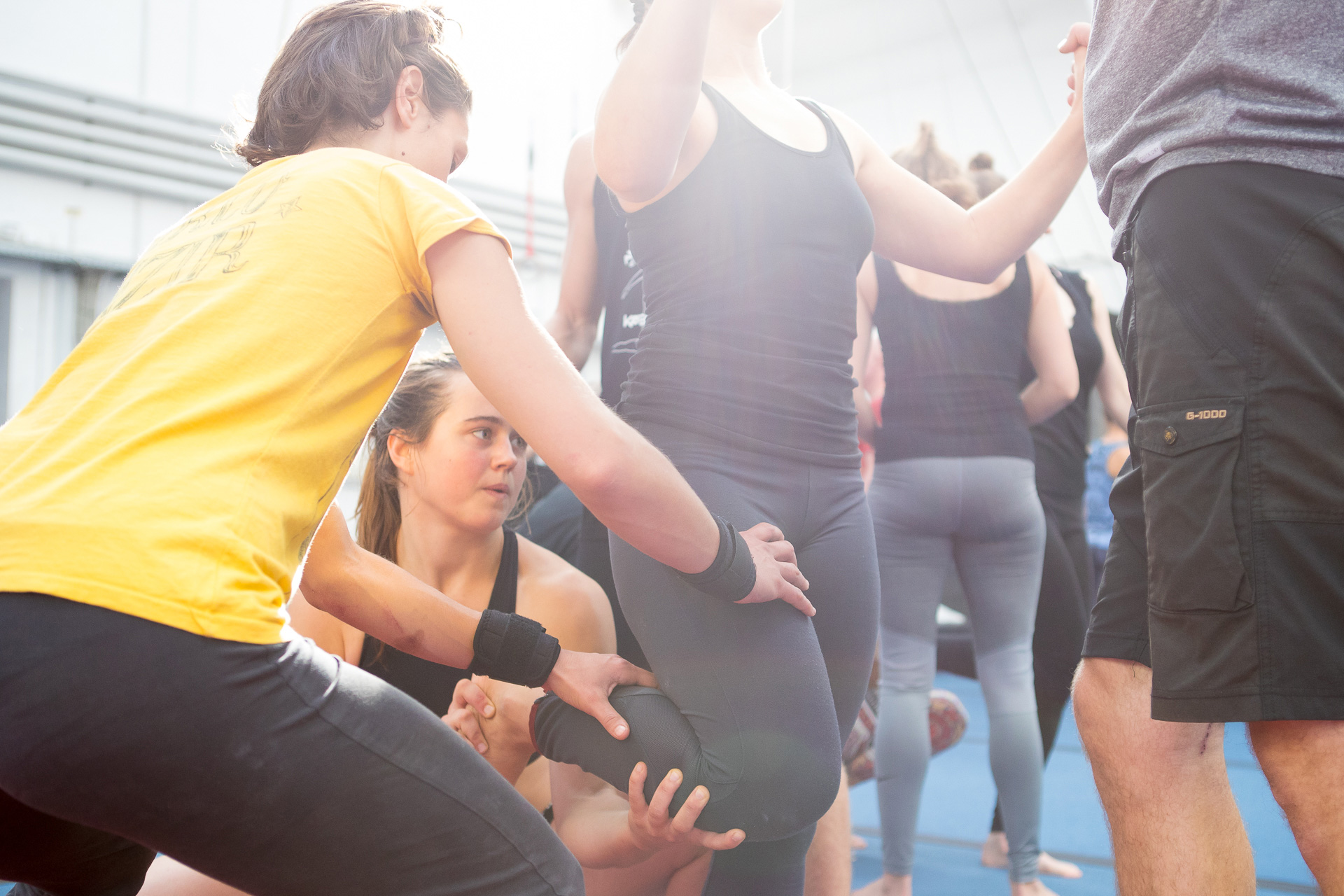 Standing Acro: Our intention is to play to the strengths of the partnerships, and allow for progression and growth. We will play with some of the standing skills that combine both strength and grace. Using timing and tempo, physical tension and connection, we will train these standing skills to be as easy, consistent and fluid as possible.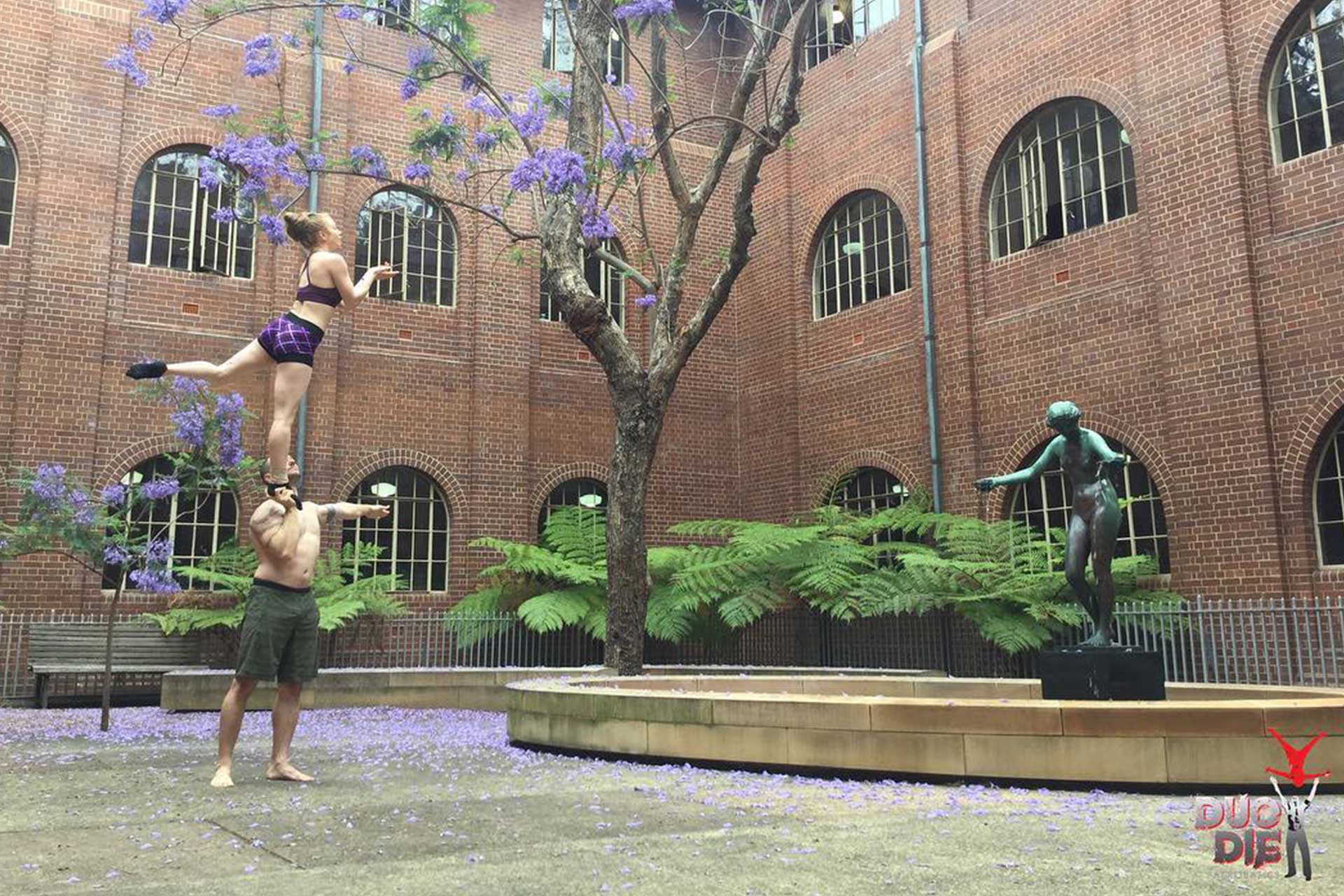 Creative Acro: Experiment with transitions, movement, characters and connection while still building strength and skills. Move into and out of skills with ease and ingenuity and gain comfort in adding a theatrical flare to the skills that we all train everyday! Our intention is for partnerships to identify their strengths and build sequences of skills, character connection and transitional movement.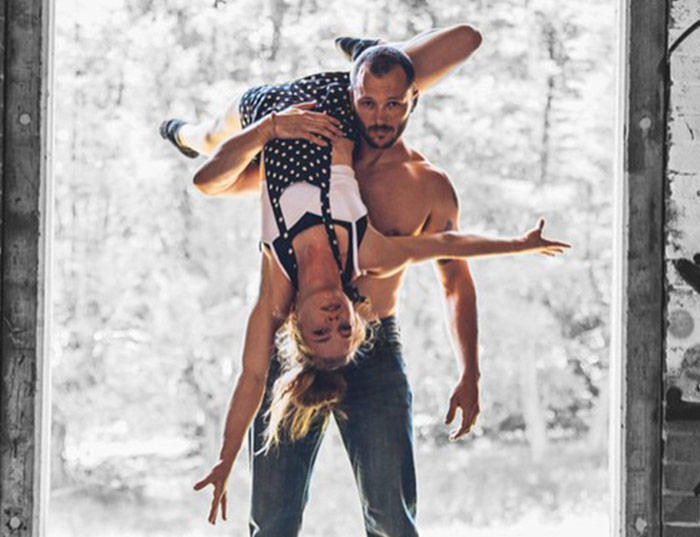 About the Teachers
As a team, Caitlin and Dane have a serious love of partner acrobatics. Constantly working hard to refine techniques, their goal is to make skills look effortless. Which, as you can imagine, takes a lot of dedication! They have spent countless hours of fun filled drills, progression practice, workshoping, performing, coaching and learning. As a team they spread their love of acro, share any and all ideas that can be created, played with or attempted, and most of all, inspire to keep having fun!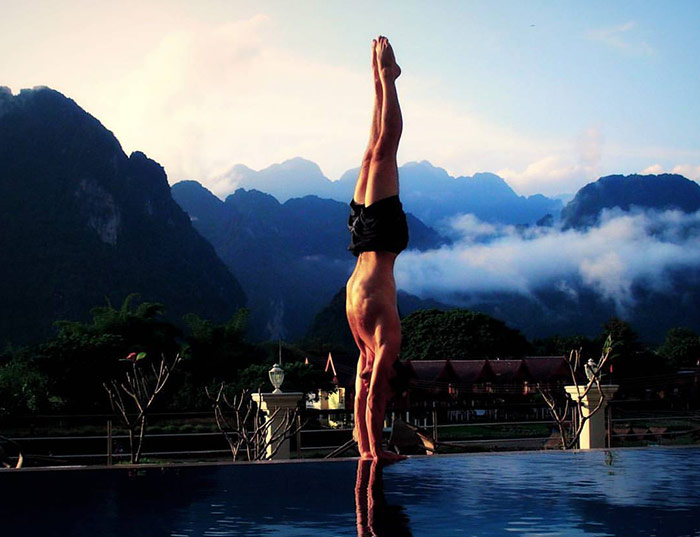 Handstand Technique
Simon says "Handstand is a marathon, not a sprint! Be patient and train with passion." This is why we do it every day on this AcroVenture. These units are about good technique, lasting progress and of course fun.
You will learn about correct body alignment, injury prevention and a structured training allowing you to progress safely to solo handstands. Understanding a handstand and correct alignment is the first step to mastering a handstand – says Simon and he knows :-)

A Typical Day
Everyday is different and depends on group motivation, temperatures and weather conditions. There are numerous possibilities for swimming, hiking, exploring, food or simply relax by the crystal clear rivers or lakes. In case of bad weather we supply a big tent to play, train and hang out in.
7am

Wake up to mountain views, fresh air and smiling faces
7.15am

Warm up & Handstand Workshop followed by breakfast
9am

Time to snooze, get ready, play, write,… pack gear if necessary
10am

Hike followed by lunch
1pm

Acro mountaintop workshop unit with main teachers
4pm

Back to camp (hike or drive)
5pm

Free training/jam time (teachers are there to help you with whatever you are working on)
7pm

Dinner & Campfire and free time under the stars

Arrival: Wednesday June 7th, 2017 – We will gather in Ljubljana and drive together into the Julian Alps and set up our first camp. After introduction to our weekly schedule we will start our AcroVenture.

Departure: Saturday June 17th, 2017 – We will conclude the Mountain Week of our AcroVenture with a bonfire feast and fresh trout from the Soča River near Bovec on the 13th of June. Kayak Days start on the 14th in the morning when we make our way from Kobarid to Mostna Soci. Our last night together is the 16th before we depart back to Ljubljana in the morning of the 17th.
What's Included
All of our favourite things: acro, the great outdoors, hiking, and exploring!
Meals
3 vegetarian meals per day (warm dinner).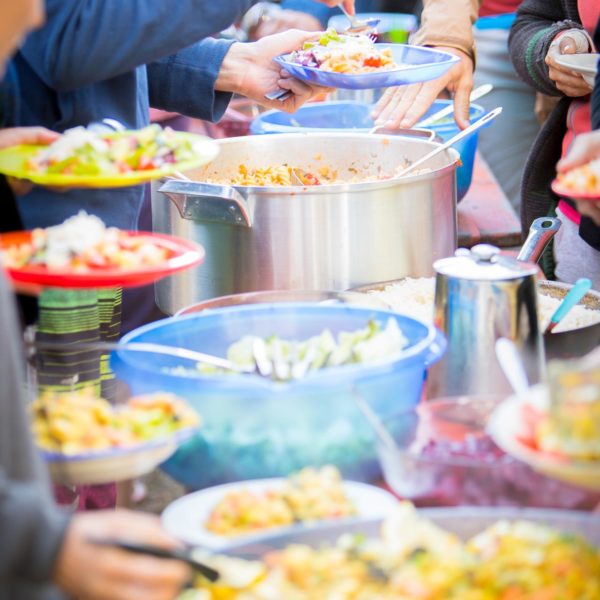 Camping
Accommodation on campgrounds.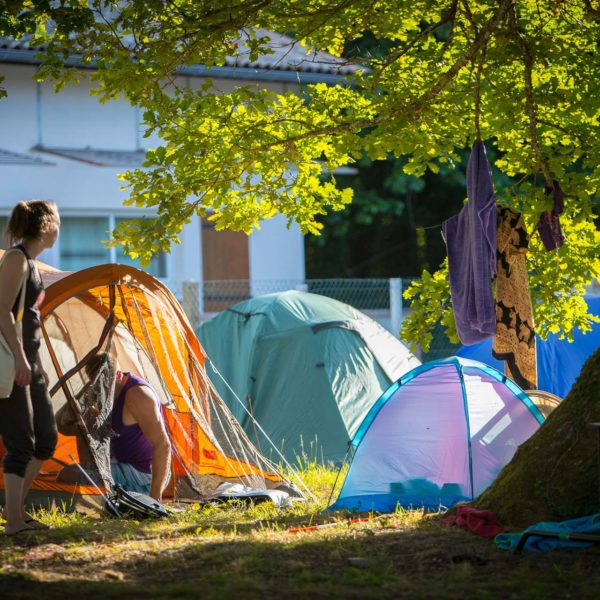 Mountain Hut
One night in mountain hut.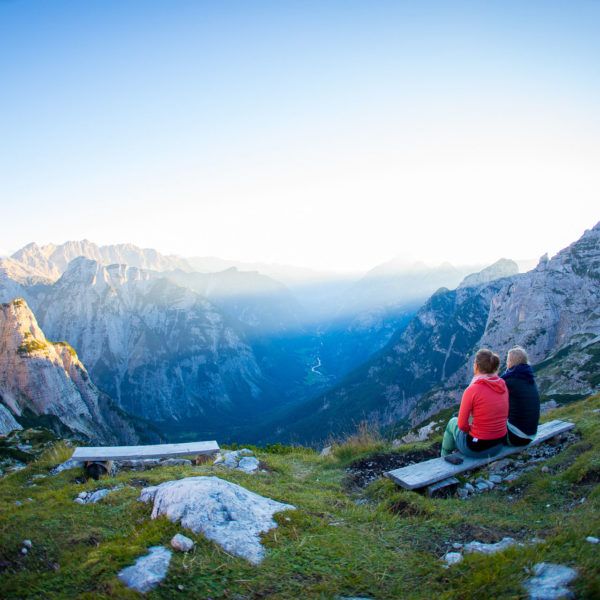 Acro
Minimum one acro unit per day with alternating teachers.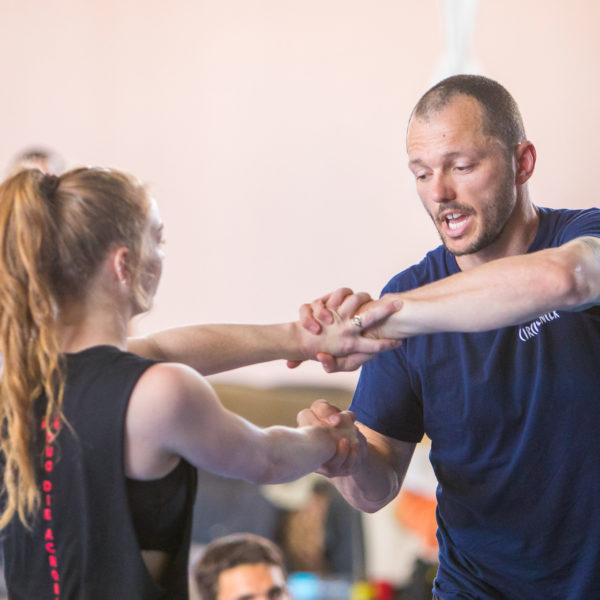 Free Training
Free training time with all our teachers present.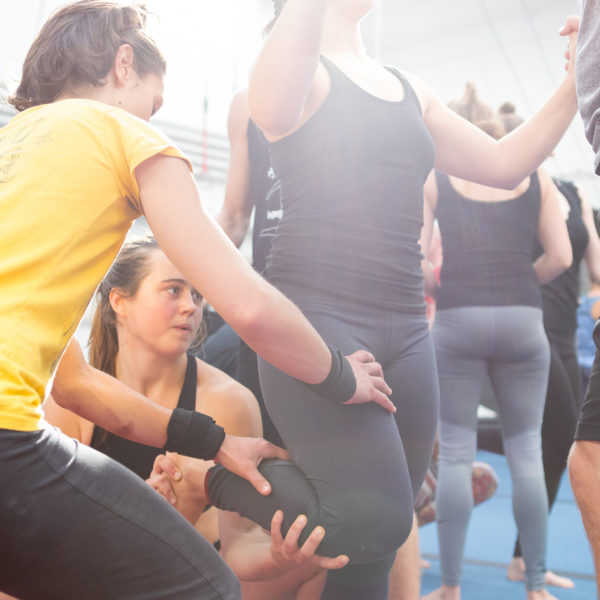 Handstand Training
Daily warm-up and progressive handstand training.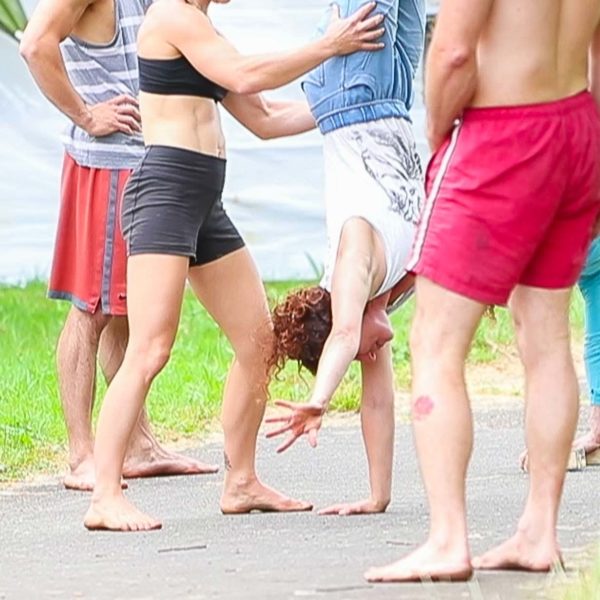 Activities
All guided outdoor activities we do.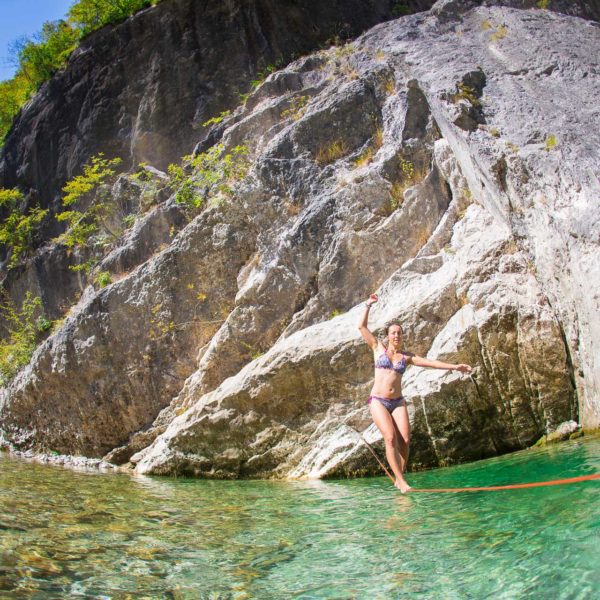 Transport
All transportation during our trip.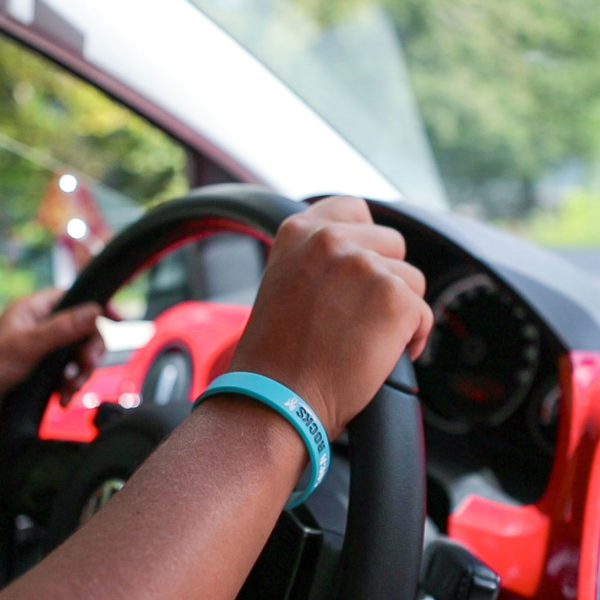 What You Will Need
Hiking boots
Tent
Sleeping bag going down to 5°
Sleeping mat
Large water bottle at least 1L
Tupper ware box for lunch, optionally also a plate, zip bag for trail mix, mug, camping cutlery/knife/fork/spoon
Torch, ideally head light so that you can have your hands free

Towel

Comfortable backpack for day trips and one overnight hike on which we will carry our sleeping bags (you may leave your large bag in the transport van)
Blister plasters
Sunscreen
Toiletries and medicine if you know you need any
Clothes to acro and hike in
Clothes for a temperature range of 5° to 25° – warm day, cool night.
Raincoat
Fleece jacket – or similar
Prices
When we write number of days, this means full days. There are no half days on an AcroVenture, we have a lot we want to share!
Early Bird (till April 20th):
650€ Mountain Week (7 Days)
280€ Kayak Days (3 Days)
850€ Mountain Week & Kayak Days (10 Days)

Regular Price:
710€ Mountain Week (7 Days)
310€ Kayak Days (3 Days)
890€ Mountain Week & Kayak Days (10 Days)

Prerequisites
To really make the most of our time together and with our teachers we want to ensure that we have a similar acro level in the group. Prior skills we ask you to have as a base or flyer when working with someone around your skill level are:

Safely spotting tricks at your level
Jump up into a handstand on ground (you can have a spotter but without help to get in)
Hold a handstand at the wall for at least a minute.
Cartweels/TicToc
Star (shoulderstand on feet)
Free shoulderstand in hands for 30 seconds (flyer holding bases arms)
Foot to Hand – L-basing, long arms and short arms, regular and reverse
Controlled squats with flyer standing on shoulders/in 2 man high
General good health and fitness
We ask you to make a quick video of you performing the prerequisites and upload it in the registration process. This is because we want to make sure each AcroVenture group is around the same skill level to really make the most of our time together and with our teachers. We feel that these skills are important building blocks in acro. You may use spotters if necessary, however they must not help the tricks, only spotting for safety.

Teachers & Team on This Trip
On this AcroVenture you will have the opportunity to travel, play and train with four, yes thats right, FOUR different international teachers. Each one of them is excited to be going on a trip like this and to be sharing their knowledge with such a small group in such unique settings.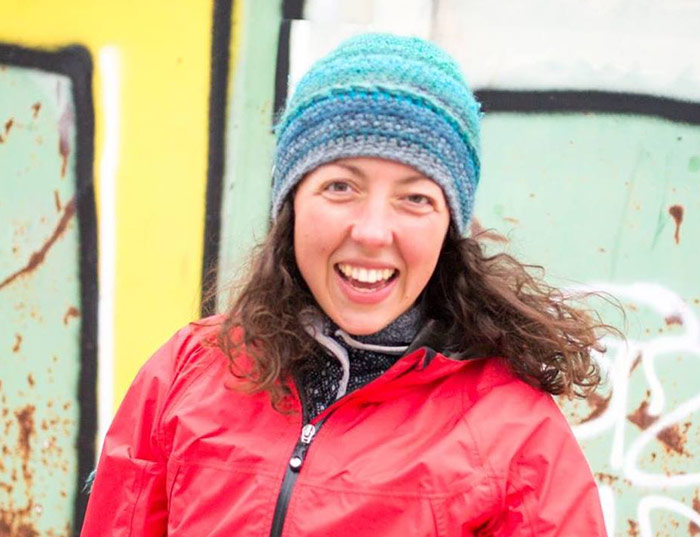 Eva Brovinsky
Our local expert for Slovenia and master of movements
Eva is our partner for AcroVentures Slovenia. She is a seeker of all sports and activities that take her into the great outdoors. Her mantra is less gear, more freedom of movement. As a certified Vinyasa Yoga and acro teacher (Acro Montreal) she is forever patient and compassionate and emphasizes cooperation with effective technique to build confidence and a solid foundation for your personal practices.
On our Slovenia AcroVentures she will be guiding our hikes and offering her input on improving overall body awareness and movement. As a Yogaslackers teacher she will for sure bring along her slackline and teach you some tricks. She can even do Thai Massage in case you are sore from all the fun.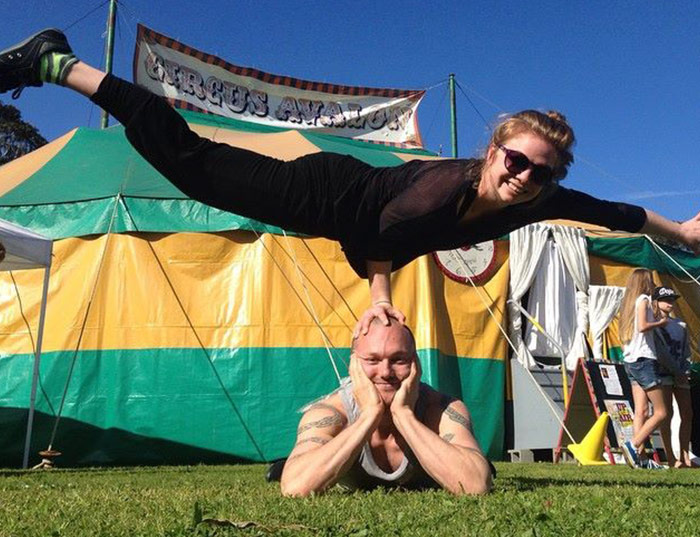 Caitlin Cook
Leading the main workshop block
Caitlin has been doing gymnastics from around the time she started walking. Her parents wanted her out of the stroller, so she got up into a handstand. After living the competitive gymnastics training schedule throughout most of her childhood and teendom, she went on to pursue more dance and circus acrobatics in San Diego, then San Francisco, Edinburgh and now Sydney. Her love for performance and acrobatics has led her on a wonderful path of flipping, flying, and handstanding all over her amazing base, Dane.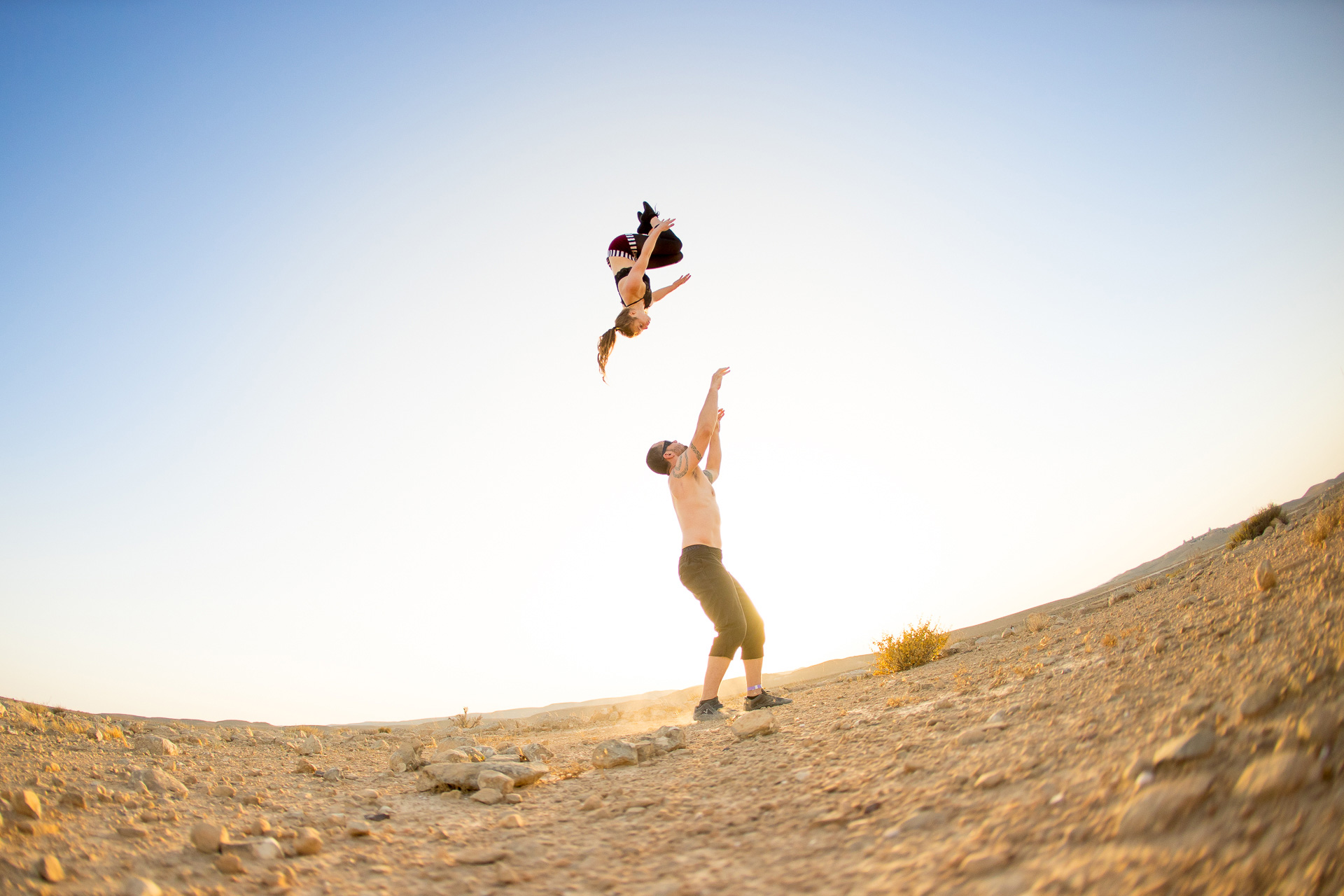 Dane Heimann
Leading the main workshop block
Dane was raised playing sports. He started lifting weights at a young age to get stronger and quickly became a gym rat. He found rugby, which has become a major passion in his life and played as a flanker. He has always enjoyed the support roles in team sports, never wanting the spotlight. He prefers that his team mates know that he is working hard and doing his job above all else. This has been a perfect mindset for being a base. Dane enjoys being a strong platform and thinks that a job well done is when he isn't noticed. Letting Caitlin soar and making sure to always be there to catch her is the most satisfying part of the job.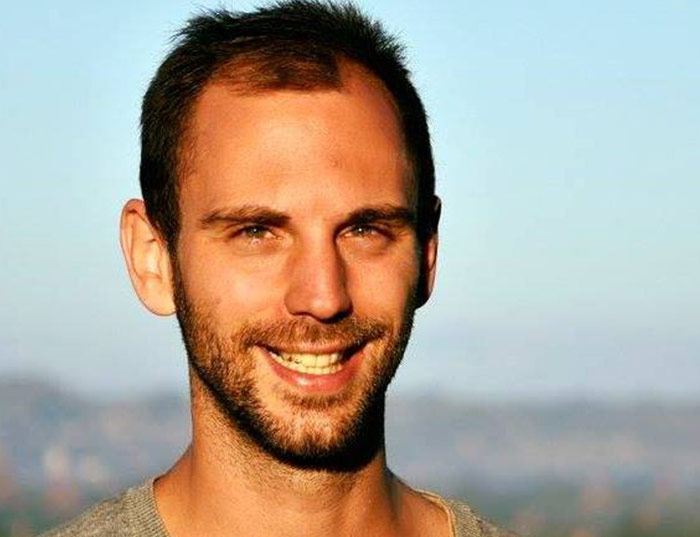 Simon Bigelmayr
Leading the daily warm-up and progressive handstand workshop
Simon is a sports nut, forever thrilled by the diversity and fun of all kinds of movement and striving to understand alignment and the learning process. His experience in teaching gymnastics to senior beginners allows him to adapt his instructions to each individual. Other than teaching handstands on this trip he will most likely propose all sorts of funky things to you: his passion is everything upside down and Icarian Games and he is excellent at making these tricks accessible to people from a variety of levels. If he is not working on his free database for acrobatic poses and transitions (Acrodicted.com), you will find him on the ground with someone wearing a happy smile on his feet.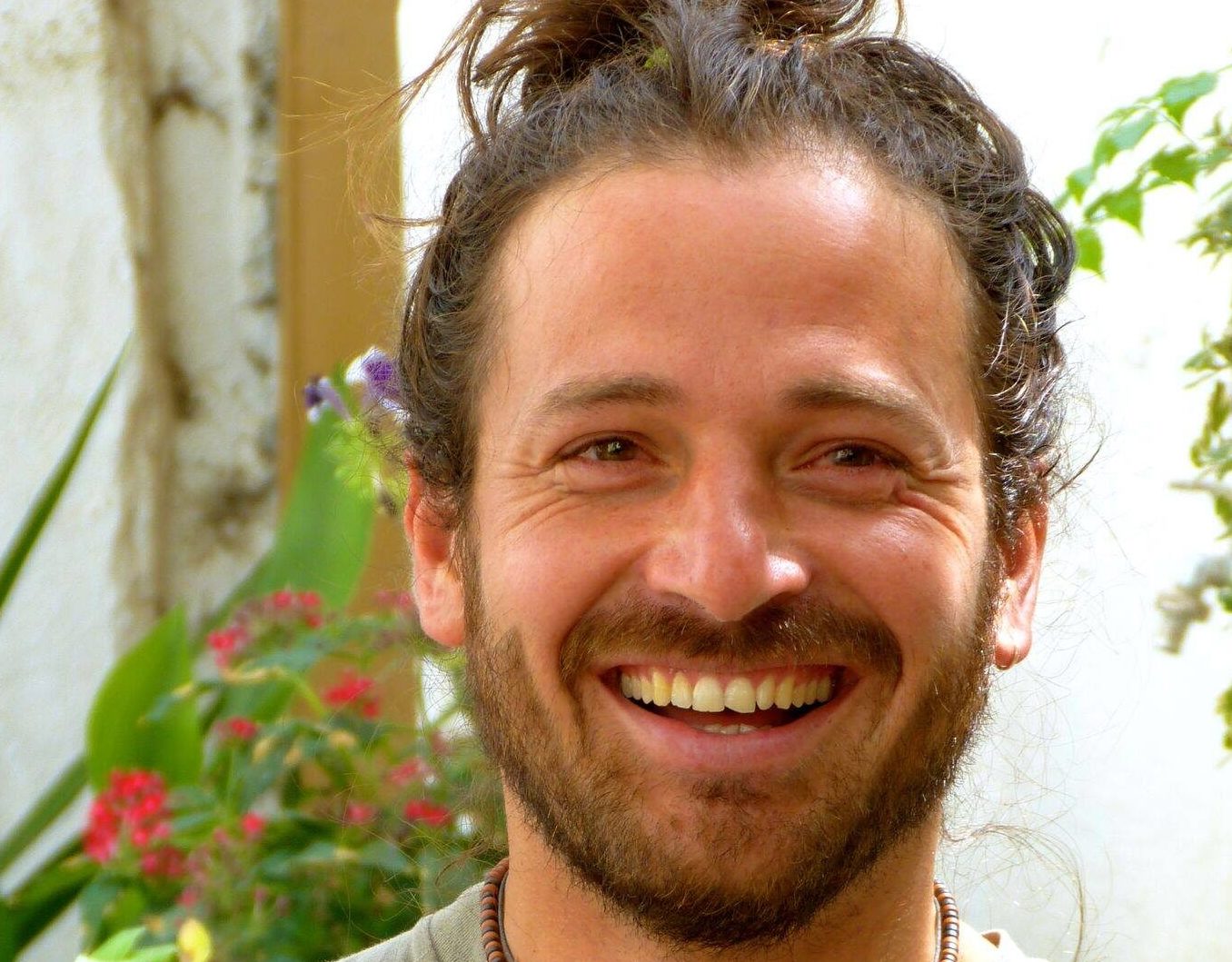 Carú González
Chef
Take climbing, travelling, hiking, outdoor spirit and all sorts of movement training, add yoga and acro teacher to the mix and you get the energy ball that is called Carú. As the co-founder of Acrology (http://acrologyteam.wixsite.com/acrology) he usually takes people on acro and hiking retreats himself. But since he is also a lover of foods and amazing cook, he will be the one feeding us on our June trip. Having hosted and participated in a multitude of acro-events he knows the culinary needs of acrobats and how to meet them. His can-do approach to almost anything and compassionate personality make him a perfect addition to our team.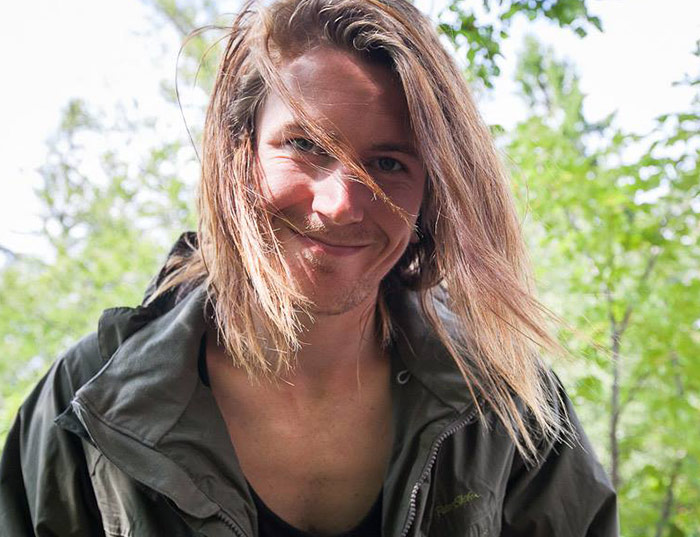 Jared van Earle
Co-founder, photography and videography
Jared is our Jack-of-all-trades: from sparking the idea over planning routes up to building our website, his talents show in every aspect of our trips. Many of them he acquired in the last 4 years, during which he left his job in graphic design and photography to go travelling. As a master of combining work and pleasure, he is the official photographer at several acro conventions and also teaches Thai Massage and acro.
On out trips you will find him behind his camera, restocking the fridge with chocolate or doing acro. As the co-founder of AcroVentures, his kind and reassuring nature is the magic ingredient that allows Lilli to hold the vision and trust the process.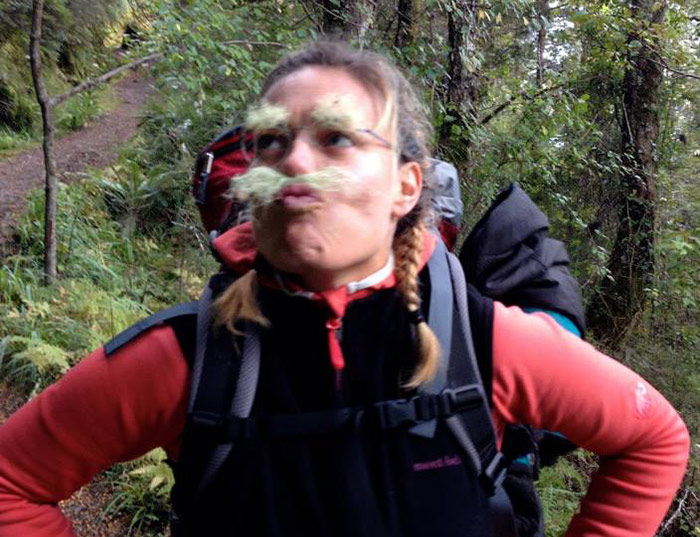 Lilli Hantke
Co-founder and organisational mastermind
Lilli is the spark that lit the AcroVentures flame - a warm hearted, outspoken and fun loving traveller with a passion for bringing people together. When Lilli left her job as a careers counsellor for international students she just wanted a break, lots of sun and time for acro. Two years later, she is working on a more balanced lifestyle that combines everything she loves: outdoor living, travelling, creating magic through connecting people, bonfires – and of course acro. A boyscout at heart, she is happiest in the mountains or in the water with the sun on her face. During our trips Lilli is our organisational mastermind as well as esteemed ambassador for the Ministry of Silly Walks.
The Group So Far…
AcroVentures are built on a sense of community. Here you can see all currently approved members of this trip. Click a member to view their public profile and get excited about new friendships and experiences that await.
Once you are approved as part of the group you will also share a spot here.